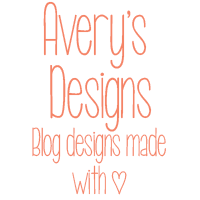 Recently my friend Avery of  Avery's Book Nook has decided to branch out from the standard book blog fare. She's started Avery's Designs, a new blog design service! Her goal is to make blog design easy and affordable- with blog packages, including a header, button, and avatar, for $25.
To celebrate this new venture she is having is having a grand opening celebration and you are invited! Enter to win one of two complete blog makeovers (including winner's choice of her premade designs and installation of said design- $35 in value)!
This is the perfect opportunity for those who have always wanted to start a blog, but have yet to do so, or for those seasoned bloggers who feel like their blog could use a facelift! Make your blog stand out with her one-of-a-kind, professional designs!
Seriously she makes some GORGEOUS designs. Like this one -
So go check out some more of her designs and them come back here to try and win one!